Top tips on taking your baby or toddler hunting.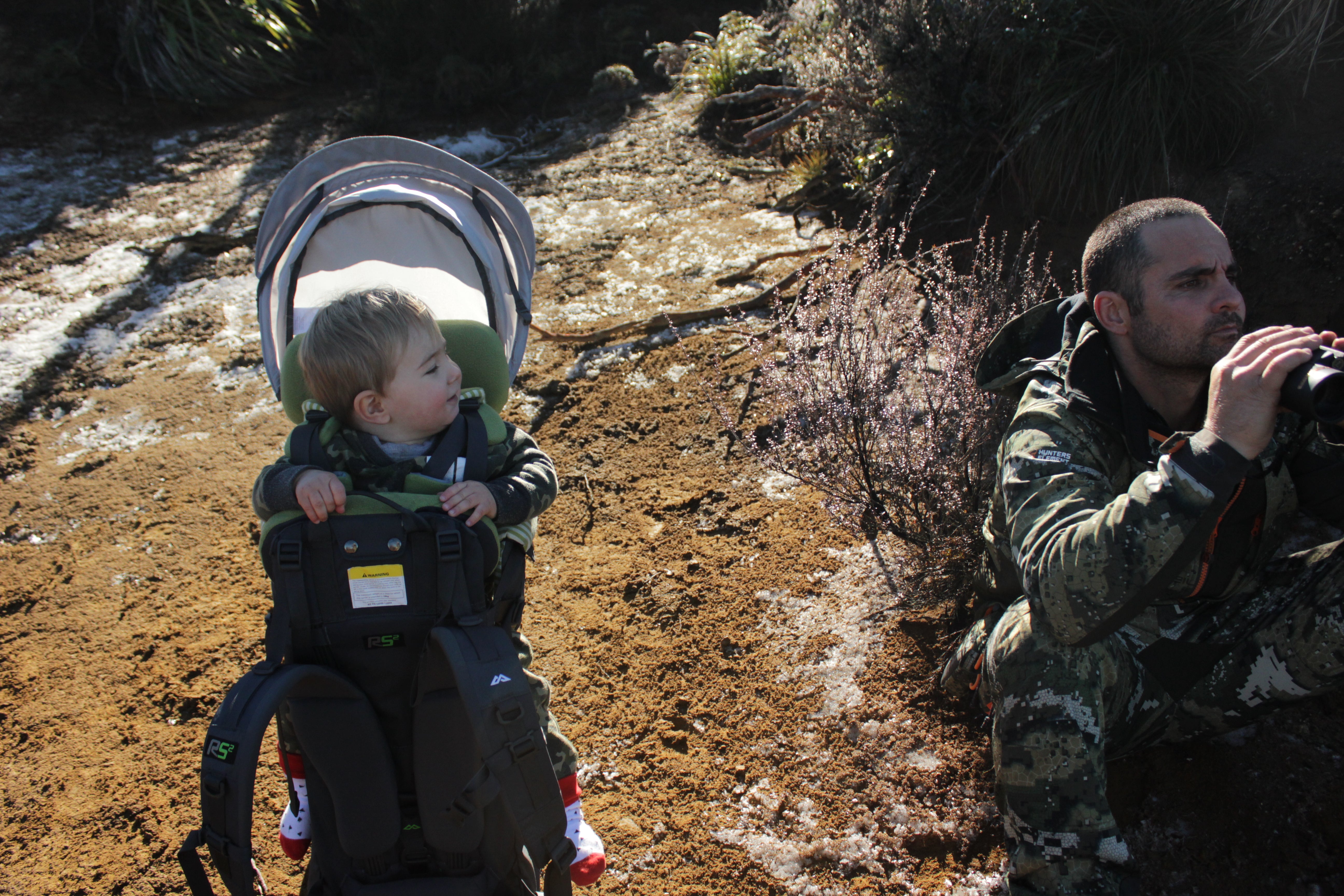 Tip one - Just don't …. haha no just kidding!
TIP 1
CHILD CARRIERS
It's important to find the right pack to carry them in and choosing the right pack will depend on the age and size of your child. I would suggest choosing a pack with multiple capabilities like the baby Bjorn pack.
Your child will need to face different places at different stages of their growth and the weight distribution it adds to your back; for example, front pack position facing towards you between the ages of new born and 4 months, front pack facing out so they can see between the ages of 4 months and 6 months and on the back from 6 months old.
Then from around 10 months once your child is well and truly capable of holding him/herself up look at a pack that's better suited to carrying a heavier load, such as the Kathmandu child carrier. These are fantastic for comfort for the child and for change in weather conditions; sun, wind or rain with a built in roof and weather protection cover that can easily be applied on pack at any time during your hunt. 
Tip 2
OPEN HUNTING 
Not only is it noisy to push through dense bush with a pack on, you also risk getting them a stick in the face so just hunt in more open areas like the open tops, tracks, forestry blocks, farm hunting, etc. 
Tip 3
SNACKS SNACKS SNACKS
Well we all want to feed our kids healthily but sometimes a toddler needs a lollypop in their mouth to stop them talking. Some other quiet snacks that are great for toddlers are raisins in a box, bananas, and sweet biscuits just to name a few. Just a warning whatever they eat up in their pack you're going to get covered in - crumbs, mush and dribble.
Tip 4 
SCENTED NAPPY BAGS
if you don't know what they are, they are small scented rubbish bags made for dirty nappies so make sure you pack a few of them with the nappies and wipes so you contain their poos and decrease the smell at the same time. Then tie a knot in the bag and put it in the pocket on the back of the child carrier.
Tip 5 
ENTERTAINMENT
If you're walking in to glass from somewhere pack your toddler a small toy like a car they can play with in the dirt while you glass if they start to get bored they will scream to get out of the pack and the deer won't stick around when that's going down trust me.
WRAP UP
It's honestly easier not hunting with kids but when it's your lifestyle and you have a family they have to fit in with you, not the other way around so get out there with the family teach them the ways of the bush and enjoy the outdoors hunting, fishing or camping